Understanding Immigration Law
An attorney specializing in immigration law provides a variety of immigration legal services to non-citizens who reside or wish to reside in the United States. Clients who fear deportation, need legal documentation like work visas, or those who wish to become naturalized citizens of the U.S. should consult an immigration attorney who can represent them in court and/or guide them through the daunting process to begin their path to citizenship. Immigration attorneys can help clients in the following areas:
Asylum
Asylum refers to the government's protection of an immigrant already located in the country. In order to be granted asylum, the immigrant must face persecution based on a protected status, such as race, religion, or political views. Asylum differs from refugee status. A refugee is located outside the country and wishes to enter the country under the government's protection.
Naturalization & Citizenship
Naturalization is the process through which an immigrant becomes a citizen of the United States. As a part of naturalization, immigrants must fulfill all government requirements, including passing a citizenship test.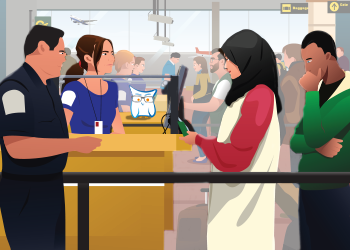 Green Cards
A green card status refers to a resident of a foreign nation who lives and works in the United States on a permanent basis. To be eligible for a green card, the foreign resident must have a family member who is a citizen or green card holder, a permanent job offer or "extraordinary ability", or been granted asylum or refugee status.
Visa
A visa is an official, government-issued document that allows an immigrant entry into the country for a specified amount of time. Obtaining a visa is the first step to citizenship. The most common types of visas are family related and work related. However, visas can also be obtained for children adopted from foreign nations or foreign fiances of U.S. citizens, as well as a few other categories.
Immigration lawyers can help in every aspect of the immigration status. Immigration legal services they offer include:
Counsel during the naturalization process
Help obtaining visas or green cards
Aid in seeking asylum or refugee status
Deportation Defense
Immigrants who need immigration legal services should consult an immigration attorney. Usually, immigration lawyers provide a free consultation. You can find an immigration attorney by visiting online attorney directories like firmdoor.com, which helps users find firms and attorneys that specialize in the area of law they need.
Frequently Asked Questions for Immigration Law
A green card refers to a resident of a foreign nation who has been granted permission to live and work in the United States on a permanent basis. A visa, in contrast, is a government document that allows an immigrant to reside in the United States for a period of time.
First, find out if you are eligible for a green card. Then, fill out the green card application (I-485) available from the U.S. Citizenship and Immigration Services (UCIS). Officials from the UCIS will review your application and schedule an interview. Based on your eligibility, application, and interview, UCIS officials will grant or deny your green card.
Deportation occurs when illegal alien has violated criminal or immigration laws. They must forfeit their U.S. citizenship and move to another country. In most cases, they are barred from returning to the United States. Immigrants threatened with deportation should consult an attorney who provides deportation defense.