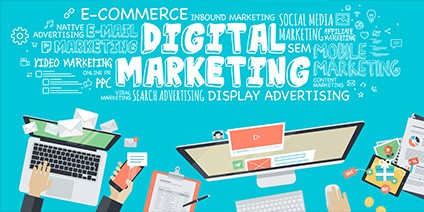 2. Reach Your Target Market

Which demographic is your target market? Well, that likely depends upon which practice area dominates the majority of the cases you take. Are you a family attorney, dealing with divorce and custody issues? Are you a criminal defense attorney, representing those who have been accused of breaking the law? Are you an estate attorney, who helps set up clients' final wishes? Odds are, the majority of your clients fall somewhere in between the Baby Boomers and the Millennials. So unless your target market falls within the Baby Boomer generation (and even many in that age group are becoming more tech saavy), then maintaining an online presence is going to be one of the best ways to accomplish your marketing goals. In fact, a recent Forbes article cites seven mistakes made by law firms, and four of those mistakes dealt with the failure to utilize the internet in order to market your firm, attorneys, and services. (For the full article, click here.)
3. Technological Changes/Advancements
In the last 20 years, our society has changed from wired to wireless, from paper to paperless, and from desktop to laptop to hand-held device. I could go on and on. Everything is digitized, from our television habits to our information sources. The odds are, if it can't be seen on a search engine, web site, or social media app, it won't be seen. Facebook, Twitter, Linked-in, Google +, Instagram, Pinterest, and Google searches are the most predominant way potential clients are accessing their information. So, odds are, if people are looking for an attorney, they will find one online.
4. Fast-paced, global society
Hundreds of people stand in line for ridiculous amounts of time to get their greedy little paws on the latest iPhone. Why? Because the latest model will be faster and offer more features than the last. Ironically, the same people who make time to stand in a line at BestBuy for 12 hours to buy a phone make little, if any, time to wait for anything else. So if people think five minutes is too long to wait at the McDonald's drive-thru, why would they take the time to consult the yellow pages or even friends and family about which attorney they should hire? In a world in which most people are using social media, sending Direct Messages, texts, and snap chats, but never actually talking to each other, why would anyone pick up the phone and call an attorney's office? If people need an attorney, they need one yesterday, so they are going to Google attorneys on the subway while they commute to and from work or school, while they wait at the doctor's office, or on breaks at work. They want to be able to send a message to an attorney in their area, who will then call or email them back. If attorneys aren't online, if they aren't changing their marketing strategies with the times, they will be left behind.
5. Old-school marketing is losing relevance
Fifteen years ago, the best way to reach the largest market was advertising on prime-time cable. Now, younger generations are trading in their cable boxes for online streaming devices that offer full seasons of binge-worthy shows without the hassle of commercials. When was the last time you saw someone younger than 50 reading an actual newspaper or magazine, let alone studying the ads inside? Why would they when they could subscribe online or download the latest issue of their favorite magazine on their cell phone or tablet? The question now is: where can I find my target market? How are they searching for attorneys? That means an online presence is more important than ever for attorneys.