Finding legal representation can prove a daunting task, whether you find yourself in the midst of family turmoil or simply need advice before signing a document. However, the perfect attorney match is within reach. In fact, with proper organization and a small sacrifice of time, you can find and hire the lawyer best suited to represent your interests. The following includes how to choose a lawyer in five easy steps:
1. Identify practice area and determine goals.The first thing to consider when searching for legal representation is what type of attorney you will need to hire. According to the American Bar Association, determining which practice area your issue falls into will play an important role in choosing the right attorney for you. Each attorney or firm can provide expertise in varying areas of practice, from family and estate law to criminal or civil law. For example, if facing criminal or misdemeanor charges, hiring an attorney who specializes in criminal law is a critical step in fighting your legal battle.
In addition, identifying your goals will be helpful in determining which lawyer in the specified practice area best suits your desired outcome. For example, if you are hoping to ensure the smooth transfer of assets and property following your death, an attorney specializing in estate law will be a priority. If you are hoping to win punitive damages following an accident, a personal injury lawyer will best represent your needs.
2. Conduct Research.If you find yourself in the midst of legal issues, you are not alone. The odds are that a friend, co-worker, or loved-one has, at one time or another, experienced a similar situation. Asking others for recommendations can be a helpful step in choosing the right attorney. Consulting a website, like firmdoor.com, can also be a great way to find the perfect attorney match. Searching by location and practice area can drastically narrow search results, providing reviews and specialization percentages that will help you choose the right attorney. Once you have narrowed your search through recommendations and web searches, you can then review the candidates' qualifications, specialty areas, and prior cases to help narrow your list of possible attorneys even more. Once you have a list of 3 or 4 attorneys, you can then make phone calls and set up meetings before making your selection.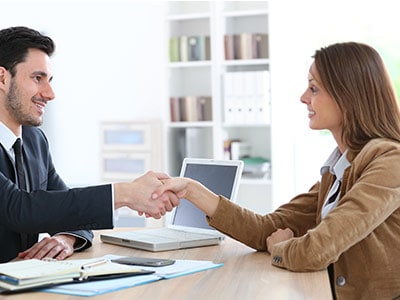 3. Set up meetings.Just as a potential employer wouldn't hire you without an interview, you shouldn't hire an attorney without first meeting with the candidate. Before making any decisions, meet with your list of potential attorneys and then determine which one will be the best fit. Who seems more qualified? Does one stand out among the others? Who makes you feel more comfortable or at ease? According to the ABA, one of your top priorities should be to hire an attorney with whom you are willing to share any and all pertinent details relating to your case. With which attorney are you most likely to build a relationship of trust? Meet with your top attorney candidates, take notes, and make an informed decision.
4. Consider your timeline.Is your need urgent or flexible? This is an important question to ask when choosing the right attorney. How busy is the firm or attorney in question? Will your case be a priority, or do you get the impression it will be put on the backburner? If an attorney's workload is so heavy that your case may not be a priority, then you might want to look elsewhere. Finding an attorney who can represent your interests within the desired timeline will ensure an amicable attorney/client relationship.
Whether facing a lengthy legal battle or making sure a corporate merger is completed to the letter of the law, finding legal representation can be an overwhelming, time-consuming task. However, if you first do your research and determine what type of attorney you need, your desired outcome, and the time and money you are willing to spend, the process of finding an attorney or firm to represent your interests can be a smooth, efficient process.